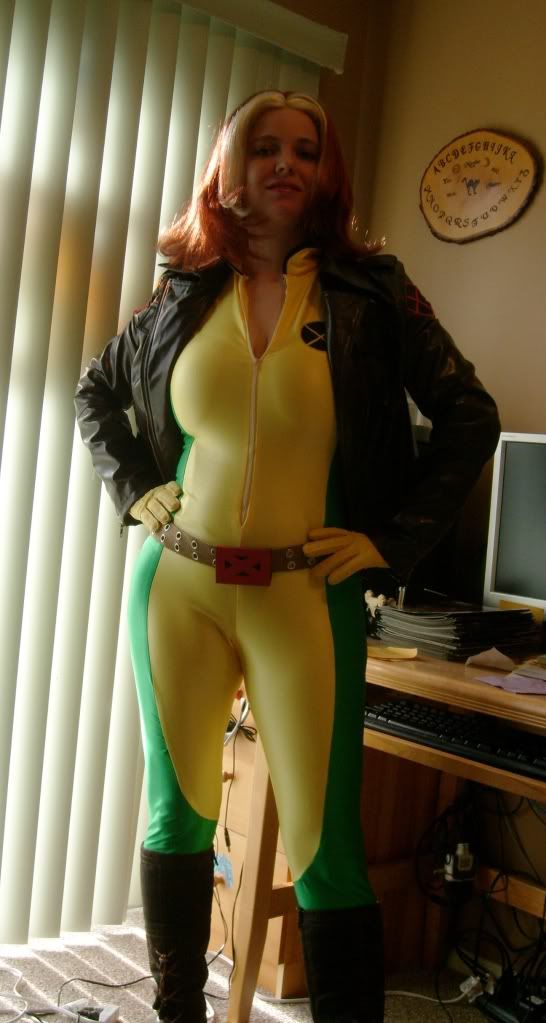 My very first superhero costume was a Rogue suit which I had commissioned. It was okay but I had hoped for better. It wasn't exactly the right shades of green or yellow that I wanted and the color blocking was done in a way that looked like it been pieced together with scraps or at best, used as little yardage as possible. I use a lot of fabric for a suit my size because I would rather have larger pieces cut on the fold than a bunch of seams from small pieces stitched together; just my preference for the best looking suit possible.
The jacket
- I spent the past couple of years slowly gathering the items to make the Rogue suit that I wanted. I got very lucky in finding what I feel is the perfect brown jacket at Burlington Coat Factory for only $17 and it's made from polyurethane not leather or cotton. I made my own X patches for the shoulders and attached them with a combination of gorilla glue and instant vinyl glue.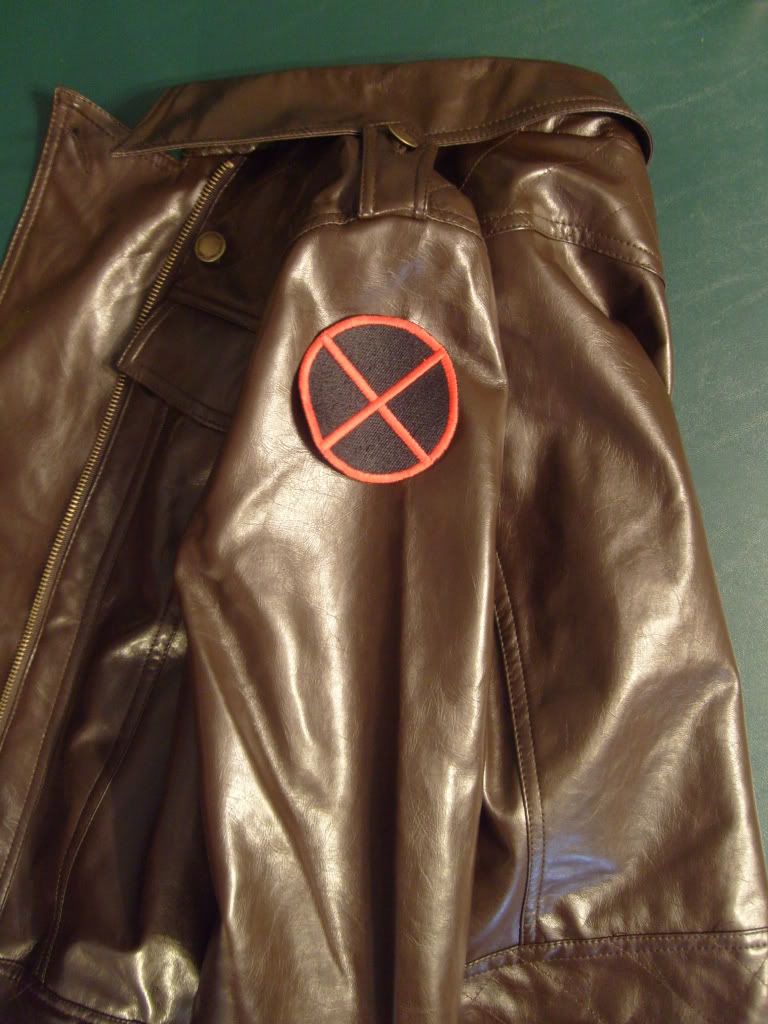 The wig
came from one of my shopping binges online at
Best Wig Outlet
. It's by Sepia, called "Ebony."
The boots
are faux leather and I picked them up a long time ago at Famous Footwear. I happen to prefer the more practical brown knee highs which I can wear in normal everyday life rather than the thigh-high plastic yellow boots with green strappy things.
The gloves
were an amazing find at a thrift store in their vintage room! They were only $4 because they were considered "lightly soiled." I knew patience would pay off by shopping for pieces over time and waiting for just the right thing. I hate making gloves!
The belt
is just something from my closet. This particular buckle design is just two layers of foamies; one in black, one in red - giving it the embossed "X" look. The backing is a strip of black spandex for the belt to weave through. I've just ordered a nice fancy X buckle from TheWrapofCons but I'll need to paint it.
When it came to making
the bodysuit
, I started with the
Kwik Sew #3052
activewear pattern which has been the staple base for all my full length suits. I had transferred it to muslin for my size and marked up my color blocking. Then I transferred those pattern pieces to paper (because that's what I had and was out of muslin) in order to get all the pieces I needed for this design. Let me express how much I hate sewing on curves! I have a couple of spots that are little too pinched or gathered but it's actually pretty good overall.
Fabric
- The spandex is Milliskin Shiny Tricot 4-way Stretch which I ordered through
SpandexHouse.com
and it arrived THE NEXT DAY. I think the color codes I ordered were #46 (green) and #11 (yellow).
The collar's stitching is actually a bit of a mess for getting that black bias tape in place. Luckily most of the problem stitching is on the inside. I also decided to put the zipper in the front which has two functions, one practical and one for kicks: the practical element is that a front zipper is easier to get out of; the other reason is because it can be unzipped enough for a sexier look.
I also ran into some problems that worked themselves out when I embroidered the chest logo directly onto the suit; the other option would be to make a patch and glue it on like I did for the jacket. By putting the spandex through the embroidery, it began to make folds as it progressed but it's not even noticeable in the final product. I also decided to make a full X logo using a black background and yellow "X" and circled edge; oftentimes Rogue's logo is really just the black spaces and no "X" at all. I went for something cleaner looking plus adding an original touch.
This suit will debut at
Free Comic Book Day
at
Comic Fusion in Flemington, NJ
(May 2nd)!