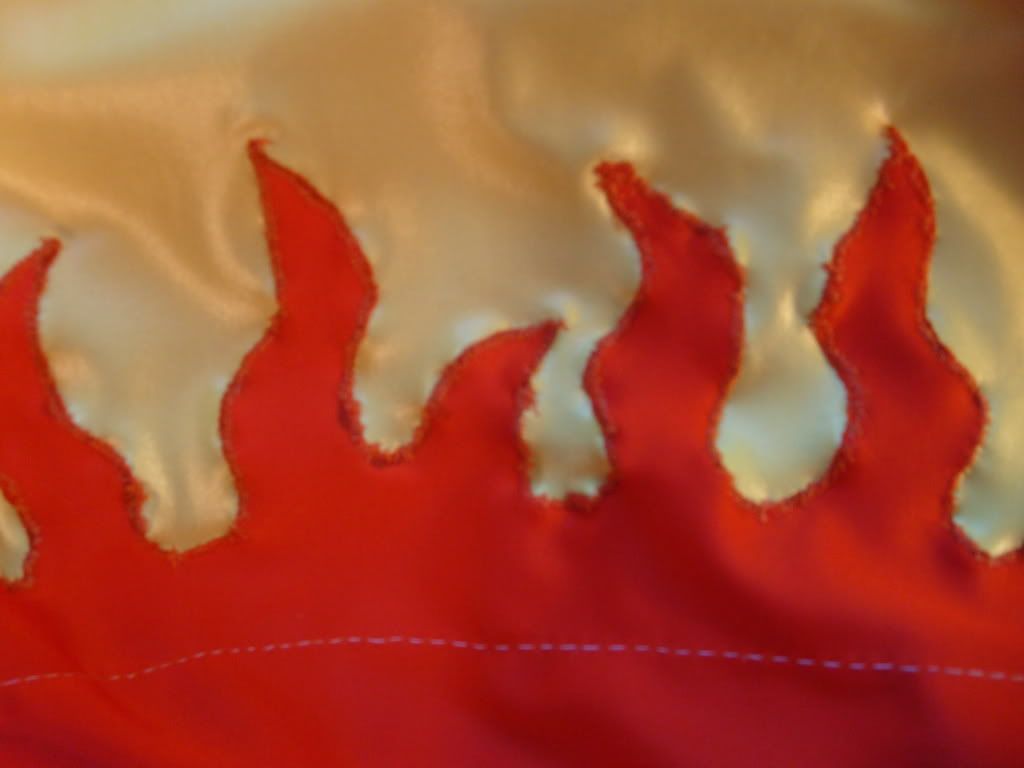 Ok, I found the camera and here are some close ups of how I created the signature flame designs on Firestar. I decided to go with two layers: a spandex layer and the accessories layer. The spandex layer was tricky.
I had traced the flame pattern from the
boot cuffs
I bought onto the orange spandex including the portion that would be the lower leg. I put in a basting stitch just to hold the yellow to the orange about an inch below the flames
(top picture)
. I tried stitching from there but all the curves of the flames were not cooperating so I had rip out the stitches, glue down the flames and wait a day to stitch over it; this did cause a lot of jamming which I was expecting. You can't stitch successfully through glue but I wanted stitches not just glue.
The reasons are because 1: I didn't have the neatest cut edges and 2: the dried glue is visible through the fabric so I wanted to try to cover it with wide zig-zag embroidery stitches. I also wanted to do two lines of embroidery stitching, one in orange
(2nd picture)
and one in metallic gold
(3rd picture)
to outline the flames.
I was worried that the height of the boot toppers would cover the spandex layer but it came out just right. Since the cuffs aren't attached to the boots, I can lower them to the right height.
(bottom picture)